Honolulu Star Bulletin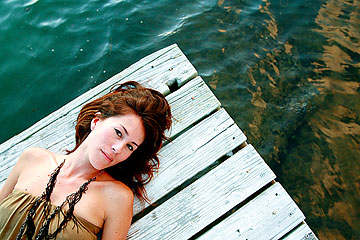 CINDY ELLEN RUSSELL /
Asia Leong's jewelry has been worn by Gwyneth Paltrow, Madonna and Lauryn Hill. Leong, in a brief visit to Oahu earlier this week, wears a waterfall necklace of silk on gold ($600).
Coming home
Jewelry designer Asia Leong seeks the hometown success to match her Paris allure
By Nadine Kam
BEFORE INTRODUCING HER line of jewelry at a private residence last Sunday, Asia Leong was nervous.
The designer had no reason to be. Since moving from the Big Island and heading to Paris to study sculpture at Les Beaux Arts 16 years ago, Leong has made a name for herself internationally. Her chic creations have been worn by Gwyneth Paltrow, Lauryn Hill and Madonna, and graced the pages of such fashion bibles as WWD, Harper's Bazaar, Vogue and In Style, as well as the runway of Christian Lacroix. But here at home, where she's still relatively unknown, she's hoping to pick up some hometown acceptance.
Her jewelry, after all, is inspired by the islands.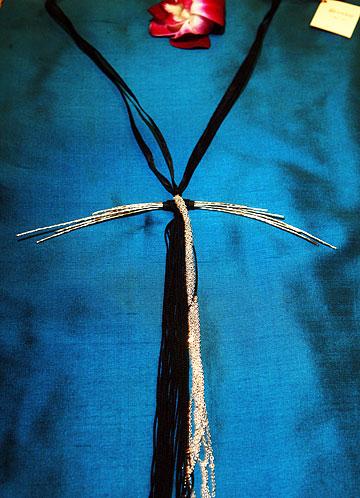 CINDY ELLEN RUSSELL
Leong's "Branches" necklace ($600) of gold and black tulle has an East-meets-West feel.
Waterfall-inspired cascades of 24-karat gold or bibs of beaded fringe, coupled with an East-meets-West and thoroughly modern sensibility, are what won Leong the attention of magazine editors and jewelry buyers from Colette in Paris to Tracy Feith, Intermix, Barney's, Fred Segal and Neiman Marcus stateside.
"What I do is very personal so that each design is really a part of myself," she said. "My aesthetic is built on water and fluidity; it's very organic yet mixed with that urban experience."
Leong inhabits both worlds with ease and has set up households on two continents. This visit marks her first extended stay on Kauai, which she now calls home for half of the year. "I always came back, but up until this year, I'd only been able to stay a month or two."
The other half of her year will be spent in France.
"I need both. I need contrast. I'm a real Hawaii person, but I'm also a real city person. In Hawaii I'm so happy. There's a very gentle lifestyle on the North Shore of Kauai that is so pleasing. I can see the ocean, mountains and waterfalls."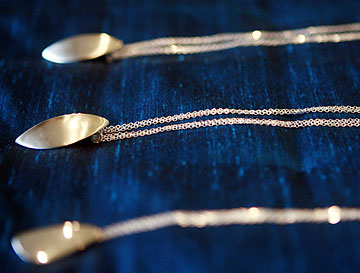 CINDY ELLEN RUSSELL
Leong's "Ladybug-PS" sterling silver necklaces cost $300 apiece.
THE JOURNEY — from growing up in the small, isolated village of Volcano, on the Big Island, to Paris — might seem like a jolting experience, but for Leong, it was merely a continuation of her upbringing.
"It was very rural but it was also cosmopolitan. There were always artists visiting from New York, so there was always that kind of energy in our home and studio," said Leong, who grew up immersed in artistic and creative pursuits thanks to her father, a photographer and ceramist, and stepmother Eva Lee, a dancer and choreographer.
Although Leong confesses to rebelling against the art forms chosen by her parents, it was her work with ceramic sculpture that led her to start forming organic shapes from jewelers' wax. Her initial works were cast in sterling silver, and she eventually moved on to gold and mother-of-pearl. The results — as elegant and as spare as feathers, curling leaf tips or dimpled, polished stones — have compelled some collectors to frame her pieces rather than wear them.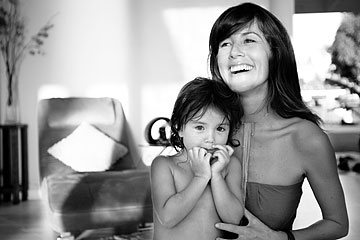 CINDY ELLEN RUSSELL /
Asia Leong's next project is a children's jewelry line called Adoré Hawaii. Inspiration for the new line comes from Leong's 3-year-old daughter, Danae Rose.
Leong knew jewelry design was something she had to explore more fully, even if it meant leaving the rain forest.
"It's a natural sort of progression," said the designer. "When you're young, you're interested in projecting outward, exploring your creativity and working on an international level.
"I've spent most of my career in New York and Paris and haven't done much in Hawaii. My only showing was at Neiman Marcus, and I've had some pieces in Nuage Blue on Maui and done some private parties, but it's always so important to return to one's source."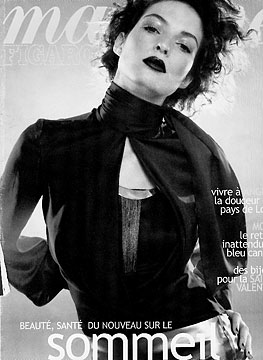 CINDY ELLEN RUSSELL
Asia Leong's designs havebeen featured in Vogue, Harper's Bazaar, In Style and, above, the cover of Madame Figaro magazine.
THESE DAYS, Leong's major source of inspiration is her 3-year-old daughter, Danae Rose, resulting in a children's jewelry line, Adoré Hawaii, that she intends to launch next spring. That, too, has its roots in her part-Chinese upbringing.
"When Danae was born, my parents gave her a jade bracelet. It's not that (children) need jewelry, but I think it's so much fun and something sentimental, a keepsake they could have for their entire lives.
"It'll be quiet and beautiful but with a bit of a fashion edge."